Picnic Baskets are the classic picnic item. If you have the space to cart one around and do not need to carry it far between your car and where you will eat, why not splurge and set the mood with a nice basket?
There are a wide range of styles and sizes to choose from. It is possible to get smaller baskets with picnic sets for two or larger models that can accommodate six people. Below are a number of different types so you can narrow down your choices to a particular kind. The examples we will show include those that are considered more traditional and some that are a bit more creative in their use of different shapes and sizes of woven containers.
Traditional Picnic Basket Picnic Sets
Picnic Sets for Four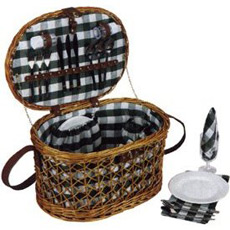 Willow Picnic Basket Set
This is an example of a simple picnic set for four people. It is woven out of willow and has a nice oval shape. Plates, glasses, cutlery, salt and pepper shakers, a bottle open and linen napkins are included. All of these are arranged to fit into the sides and top of the basket, which leaves plenty of room for your food. This basket costs $45
Here are some other four person sets, arranged from lowest to highest price. More details about any of these baskets can be found by clicking on the picture or links. The priciest picnic set on the left also comes with a picnic blanket.
The following three models are higher priced basket picnic sets. The model on the left is more than $200 and is quite fancy. It has leather accent straps and does not cut corners on any of the picnic set items. It includes things like real porcelain plates, wine glasses and stainless steel mugs, a wooden cutting board, a one cheese knife with a wooden handle, food containers and flasks. There is even a 50 x 60 inch fleece blanket. I guess you could pack some caviar into this basket if you went on a picnic with this picnic set.
Picnic Sets for Two
Here are a few different models that are suited for two people. These three baskets show a nice bit of variation in the look of different baskets, including a square, suitcase, and rounded shape. All offer a complete suite of items that two people need to eat a meal.
A Few Non Traditional Baskets
Just for fun, here are some picnic sets that feature somewhat unusual baskets. The first is a a round barrel shape, woven from willow, and serves two people. The middle is what is called a Whitney design and is for four people. The left most baskets is similar to the Whitney design, is made for four. It is a bit fancier and a lot more pricey.
A Picnic Basket for Six
| | | |
| --- | --- | --- |
| | | The final exemplarypicnic basket is this model that can serve six people. It is surprisingly not that expensive, especially compared to some of the other models that only serve four. It weights ~ 15 lbs, which is also not that unusual relative to some of the larger baskets for four. |